Activities marking the 2006 World Earth Day were held in the Square of Triumph in Barcelona. This year's event was much larger than in previous years. Over a hundred groups and organisations attended the festival. The square was filled with a sea of people. The Falun Gong stand was situated right in the middle of the square: the "Falun Gong" banner with red words and yellow base was extremely eye-catching. During the two-day celebration, there were continuous streams of people coming to see the poster exhibition about Falun Gong.
| | |
| --- | --- |
| | |
| Practitioners introduce Falun Gong and the persecution in China to Spanish people | Shocked by the CCP's atrocities, people sign a petition to support Falun Gong |
Supported by the organiser, practitioners displayed banners and posters at the entrance to the event, strongly condemning the Chinese Communist regime's persecution of Falun Gong. This helped everyone coming to the festival to have the opportunity to see the unspeakable brutal persecution happening in China. Kind Spanish people were shocked by the Chinese Communist regime's violent crimes. Many of them came to sign the petition to support Falun Gong practitioners and some people even queued to sign it.
A middle-aged lady said angrily: "It is impossible to imagine and believe that in today's peaceful age, the 21st century where people are all promoting freedom and democracy, such terrible things are happening. They (the Chinese Communist regime) are more brutal than wild animals. Their crimes must be stopped." A photographer stood a long time to read all the posters and asked in great detail about Falun Gong and the persecution against the practice in China. Before he left, he specially bought a bunch of flowers, saying that it was for Falun Gong. There was a family of three generations who came to sign the petition. When the little boy signed his name, his grandmother told him to write his name clearly because his signature was of great significance and he was doing a very righteous thing.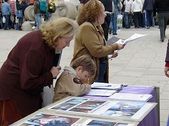 A family of three generations came to sign petition
During the festival, Falun Gong practitioners also met many Chinese people. Most of them happily accepted leaflets and DVDs containing the truth about Falun Gong and the persecution against practitioners in China. A grandfather with his grandson said to practitioners: "The Communist Party says Falun Gong is not good. But I don't believe what they say. I want to know for myself what Falun Gong really is and why so many people are practising it." The elderly gentleman hoped to read the main teaching of Falun Gong, Zhuan Falun.


A pure and innocent little Falun Gong practitioner gives out leaflets
Some people asked what the benefits of practising Falun Gong are. When they heard
practitioner's personal experiences of mental and physical benefits, they were pleasantly surprised and expressed their wish to learn Falun Gong.
A couple from Northeast China talked to practitioners in a park and also received leaflet. At that time the lady was unwilling to listen. This time when they met practitioners in the festival, they changed a lot. The lady came to say hello to practitioners. They were very happy to have new materials about Falun Gong. Just a moment after they left, they came back again with four Chinese people. With smiles the couple told practitioners that these people were from the same place as them and wanted to have material about Falun Gong and to get to know Falun Gong. These Chinese people carefully checked the materials to see if they missed any. Practitioners were really happy for them.
You are welcome to print and circulate all articles published on Clearharmony and their content, but please quote the source.