In order to raise people's awareness and attention to the persecution against Falun Gong by the Chinese Communist Party (CCP), Falun Gong practitioner Helen went to Aberdeen on 21st February 2007. This was one stop on her journey around Scotland to raise awareness about the persecution of Falun Gong through talking about her own experiences.
In the regular Falun Gong free exercise class at Winter Gardens in Duthie Park, some people came to learn exercises. Human rights supporter Ron Scrimgeour MP came from Forfar especially to meet Helen and listen to her experiences. Meanwhile, he also showed that he was very interested in Falun Gong. After learning some of the exercise movements, he said the exercises had unimaginably strong results. Due to his wife being ill at home, he had to return back quickly, but he took with him a brief newspaper which reported about the persecution Helen had experienced in China, the independent report of the CCP harvesting organs from living Falun Gong practitioners by David Kilgour and David Matas, a Nine Commentaries on the Communist Party DVD and a deeper understanding about Falun Gong.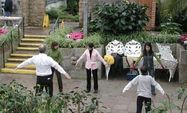 A regular free Falun Gong exercise class held in Duthie Park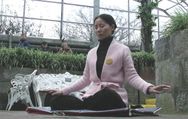 Demonstrating the sitting mediation exercise
In the evening, Falun Gong practitioners held an activity in Aberdeen University Kings College, including exercises demonstrations. They told people about the persecution of Falun Gong in China and how the CCP harvests organs from living practitioners. Helen talked about her personal experience encountered in China. Participants included Aberdeen University Amnesty International Organisation student group, Amnesty International Aberdeen branch and the local Tibet support group. When Helen talked about her experience in China, some listeners shed tears when they heard of how she was tortured by the 610 officials.
A student who came from Czechoslovakia talked with practitioners for a long time. He said that he hoped to have a try at Falun Gong and learn more about it. Practitioners told him that there are Czech books and materials on websites. He was very happy, and he expressed that he would send a leaflet to his mum in Czechoslovakia.
There was a Singapore student at this activity. At the end of this activity when practitioners were packing up, he told them that: ''In Singapore, Falun Gong is regarded as a bad religion.'' Practitioners explained to him about the persecution against Falun Gong launched by the CCP and the propaganda about Falun Gong made by the media under the control of the CCP. He told practitioners that in Singapore he had read and heard of this matter and also noticed that Falun Gong practitioners were unreasonably arrested. Practitioners explained to him that the CCP makes use of commercial and economic interests to control and pressurise other countries and places outside China. The practitioners illustrated with an example of how the CCP has tried many times to stop Falun Gong practitioners joining in the Edinburgh Cavalcade.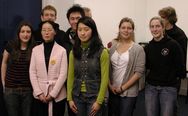 Falun Gong practitioners with Aberdeen University Amnesty International Organisation students group members
Due to many people being moved by Helen's report, the question and answer session took longer than planned, so that Helen and another Falun Gong practitioner who helped her to translate all missed the train to Dundee. The extent to which people had showed their interest and attention was very impressive.
You are welcome to print and circulate all articles published on Clearharmony and their content, but please quote the source.