Beatrice Mellinghoff is an editor of Boolibri Magazine in Ruhr and her husband Peter Lihs is a salesman. After watching the Chinese New Year Spectacular, Beatrice said the show was very impressive and was touched by the beautiful legends of ancient China. Her husband said that the show had very deep connotation and its meaning was far-reaching. Lihs was most impressed by the music and said that it was very inspiring for him to understand the meaning of life.
The Azarbayjans were also deeply touched by the show. Mr. Azabayjans, a native Iranian, is a practising physician; Mrs. Azabayjans is a German and retired. Though the Azarbayjans are frequent visitors to Chinese restaurants, this was their first time to enjoy authentic Chinese culture. From dancing, vocal solos, to stage design, the couple said everything was gorgeous and the presentation was very powerful.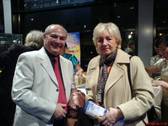 The Azarbayjangs
Mr. Azarbayjans said, "The MCs' introductions were also excellent, helping me to learn more from the dancing. The Erhu solo was superb and took me to another realm."
Mr. Azarbydjani said that he liked all the performers. "The dancing was the best and fascinating", he said. "You can not find anything better this. It is an excellent presentation of ancient Chinese culture and also revealed the current situation in China."
Noting that parts of the show exposed some of the human rights atrocities in China under the Communist Party, he said that the show did a good job. "Evil can never prevail over justice. As long as the public steps up to stop persecution, evil will vanish instantaneously. That is a hope for China."
The couple said that they would call their relatives in Hamburg and recommend the show to them.
You are welcome to print and circulate all articles published on Clearharmony and their content, but please quote the source.