On February 13th, 2008, the Divine Performing Arts (DPA) permiered in Theater am Marientor, Duisburg, Germany, the very first stop of its European tour. Prof. Dr. Hans-Gert Pöttering, the President of the European Parliament, and Vice-President of the European Parliament Edward McMillan-Scott, and many other European political VIPs sent support and greetings to the Chinese Spectacular.
The show won enthusiastic applause. Many in the audience said they would recommend it to their family and friends.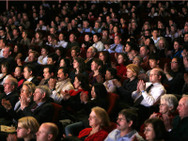 The audience in Duisburg absorbed in the show
Florian Toncar, Member of the Bundestag, said in his greeting, "Dear NTDTV audience, Happy New Year! Wish you a successful year in the Year of Rat! I am Florian Toncar, human right spokesperson of FDP. I wish the Chinese Spectacular show in Berlin a great success!"
Herbert Frankenhauser, Member of the Bundestag, also expressed his wish that the NTDTV audience have a great new year and hoped the DPA shows in Europe would have great success.
Olav Gutting, Member of the Bundestag, said, "I wish the NTDTV audience a great year in the Year of Rat on behalf of MdBs of CDU/CSU. I hope the DPA show will bring you a beautiful night!"
Dr. Michael Meister, Vice President of the Christian Democratic Union and the Christian Social Union wished the NTDTV audience great health and success in the Year of Rat. He was happy to see the DPA come to Germany and wished the show great success.
Bazon Brock, Professor of Aesthetics in many universities in Germany highly appreciated the show. He said, "True understanding of traditional Chinese culture is the key to the social peace."


Mr. Zhong Weiguang and his wife Mrs. Huan Xuewen
Zhong Weiguang watched the DPA show last year. After watching the show this year, he felt the Chinese tradition presented in the show became purer. Traditional Chinese values, morality, self-cultivation and atmosphere were infused throughout the show.
The DPA show this year will include Frankfurt, the Hague, London, Antwerp, Paris, Vienna, Bratislava, Praha, Berlin, Hamburg, Stockholm and other European cities.
You are welcome to print and circulate all articles published on Clearharmony and their content, but please quote the source.