On February 9th, 2009, Mr. Edward McMillan-Scott, the vice chairman of the European Parliament, held a welcome party for the Divine Performing Arts Company at the European Parliament Headquarters in Brussels.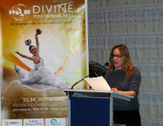 Mr. McMillan-Scott's assistant read the welcome letters
The assistant on behalf of Mr. McMillan-Scott said in the welcome letters that every aspect of the performances by DPA are extraordinary. It is a contemporary historic poem that can be enjoyed by both the easterners and westerners, yet it is being suppressed by the Chinese Communist Party. "It is through this world-class arts group that we can demonstrate to the people in the world that we co-operate with one heart against the persecution and that we interact harmoniously with each other in the course of enjoying and praising the culture of others, and then connect with each other closely through the common pursuit of the performing arts"
The Chairman of the European Parliament also wrote in his welcome letter to the DPA that, "The Divine Performing Arts, aiming at bringing China's 5000 years of traditional culture to the world, makes an enormous contribution to cultural exchange, enabling the rest of the world get a better understanding of Chinese culture". He wished, "The Divine Performing Arts will enjoy the greatest success on its 2009 world tour"
MEP Mr. Barden, who went to see the DPA show together with his wife and son last year, said, "We spent a beautiful night there. That really was a miraculous performance". He recommended all the Parliament members to watch the upcoming performances. He said, "Tell everybody. Go to see the performances. Enjoy it and support the principles behind it with your best effort"
There were about a total of more than 100 of MEPs, their assistants and stewards who took part in the welcome party.
You are welcome to print and circulate all articles published on Clearharmony and their content, but please quote the source.