On Monday, April 6th, 2009, Falun Gong practitioners in Canada held a press conference asking Stockwell Day, minister of international trade, to focus on the issue of the persecution of Falun Gong when he visits China on April 7th.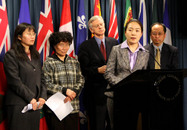 Press conference: (Left to right) Zhou Limin, spokesperson of Falun Dafa Association, Chen Guizhi, a Falun Gong practitioner who was tortured in China, Yao Lian, David Kilgour, and Li Xun, president of the Falun Dafa Association
Li Xun, president of the Falun Dafa Association, said at the press conference, "Canadians cherish having human rights and moral values be incorporated into business and society. The Chinese Communist Party (CCP) continues to threaten Canada with trade issues and pressures Canadian officials to ignore the fact that the CCP tramples on human rights. The CCP's attempt to undermine Canada's principles is unacceptable."
Families of Canadian Residents Tortured and Enslaved to Manufacture Exports
Mr. Li explained that currently there are more than 120 residents in Canada whose family members in China are persecuted because they practise Falun Gong. Forty-four of those family members were once imprisoned or still are.
Ms. Chen Guizhi, 62, who arrived in Canada on February 18th, 2009, talked about her experience of being tortured in China. Ms. Chen was twice put in a forced labour camp, in 2002 and 2006, because she distributed informational flyers about Falun Gong in public. "The first time I was sent to a forced labour camp, there were about 700 people there and half of them were Falun Gong practitioners. The second time, I was taken to the Huhehaote Women's Forced Labour Camp in Inner Mongolia. There were approximately 300 people in there and half of them were Falun Gong practitioners, said Ms. Chen. During her incarceration, Ms. Chen was forced to work hard for 14 hours per day making crafts and daily commodities, most of them for export.
Ms. Chen continued, "Beginning in April 2007, I was forced to remove tape that was used to immobilise electronic units on IC boards, so they could be recycled. I had to work on almost 2400 IC boards per day, starting at 6:30 a.m., and working until 9:00 p.m. Some days I had to clean over 4,200 of them and work until 11:00 p.m.. My fingers became deformed due to the labour-intensive work, and my spine also became crooked and my hearing deteriorated."
Yao Lian is a resident of Montreal. Her husband, Ma Jian, was arrested in the PCM Company office in Beijing on February 28th, 2007, and unlawfully sentenced to two and a half years in a forced labour camp. Ma was forced to do intensive labour.
United Nations Urges Investigation of Organ Harvesting from Living Falun Gong Practitioners
In July 2006, David Matas, Canadian human rights lawyer, along with David Kilgour, former Canadian secretary of state (Asia Pacific) and member of parliament, published an independent investigative report which concluded that a large number of Falun Gong practitioners were killed illegally and their organs removed and sold for profit. At the press conference, Mr. Kilgour said, "Legal trade can help people in the work force live better lives. We are against unfair trade, base abuse, and exports that are made in forced labour camps. What we hear today is that since 1999, tens of thousands of Falun Gong practitioners and prisoners of conscience have been enslaved in forced labour camps, and this results in manufacturing workers losing their jobs in other countries, including Canada."
The letter from Falun Dafa practitioners to Canada's Minister of International Trade states, "Since August 2006, Professor Manfred Nowak, UN special rapporteur on torture, and Dr. Asma Jahangir, UN special rapporteur on freedom of religion or belief, have many times provided evidence on illegal organ removal from living Falun Gong practitioners. They demanded the Chinese regime to make investigations into this issue and ascertain responsibilities. Beijing has not yet given any satisfactory response."
Persecution in the Name of Beijing Olympics
Beijing promised to improve its human rights conditions when China applied to host the Olympics. "It didn't keep the promise," said Li, "In the name of the Olympics, the CCP arrested, tortured and murdered Falun Gong practitioners. It's been a long time since the Olympics were over, but there are still a large number of Falun Gong practitioners who were arrested during the Olympics and are still imprisoned.
In August 2008, The Globe and Mail published an article entitled, "Chinese turn a blind eye to facts under their noses," which reported on the persecution of Falun Gong practitioners in forced labour camps in China. The article reported that over 150 Falun Gong practitioners died between January and September 2008, and 10,000 Falun Gong practitioners were arrested in that short period of time.
At the press conference, Mr. Li asked the Minister of International Trade to call for the release of Falun Gong practitioners imprisoned in China, as well as Human Rights Lawyer Gao Zhisheng, who was incarcerated because he defended Falun Gong practitioners.
You are welcome to print and circulate all articles published on Clearharmony and their content, but please quote the source.