On May 7th, in advance of Canadian of Foreign Affairs Minister Lawrence Cannon's visits to China and Japan this weekend, three Canadian Parliament Members (PM), Irwin Cotler, the former Minister of Justice and Attorney General of Canada, MP Don Davies from Kingsway, Vancouver, and MP Borys Wrzesnewskyj called upon the Chinese government to stop the 10-year long persecution of Falun Gong at a rally in front of Parliament Hill. Three witnesses of the persecution, whose family members are being persecuted in China, gave speeches at the rally.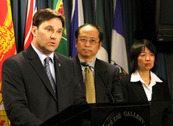 Member of Parliament Don Davies speaks at a news conference on May 7th at Parliament Hill in Ottawa in support of Falun Gong practitioners' call to Foreign Affairs Minister Lawrence Cannon, urging him to raise human rights issues during his trip to China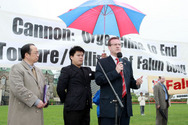 MP Borys Wrzesnewskyj giving a speech
Mr. Irwin Cotler issued a statement adding his support for Falun Gong.
"It is shocking that this exercise in meditation - a spiritual movement dedicated to values of truth, compassion and tolerance, the ancient values of the great Chinese civilisation - has been declared illegal. This widespread violation of human rights must come to an end," he said.
"While Chinese-Canadian relations should be encouraged and trade is a form of constructive engagement, Minister Cannon cannot proceed as if this is business as usual. The protection and promotion of human rights must be a priority on the Canadian agenda, an expression of who we are and what we do," said Mr. Cotler.
MP Don Davies called on Minister Cannon to raise human rights during his trip to China. He said Falun Gong practitioners just want to follow their beliefs in a "peaceful and civil manner," a desire he was there to support.
"The previous government consistently failed to raise human rights with China and they placed excessive emphasis on trade issues. The current government has an opportunity to change that."
Mr. Davies had raised the issue of human rights in China in the House of Commons in April. He asked Minister Cannon to take a productive but principled stance when dealing with China.
At the rally MP Borys Wrzesnewskyj said that while China has opened itself for investment and trade, the Chinese people still don't enjoy security within their own country.
"There's a fear of persecution. There's a fear of their own government. And that's an issue that needs to be addressed, and we certainly hope that that is an issue that our minister will address on our behalves."
Mr. Wrzesnewskyj said it was essential the regime allow third-party investigations into its penal system to reassure Canadians that documented atrocities have ceased.
"Only if we're able to push this forward in our discussion with the Chinese authorities will we step away from those negotiations and discussions knowing that when we shake hands with Chinese authorities that blood isn't left on our hand," he said.
In his remarks in the House of Commons he referred to a 2007 report detailing evidence that tens of thousands of Falun Gong practitioners had been killed by the Chinese regime in the process of removing their organs for lucrative transplant operations.
The persecution of Falun Gong began in 1999. The report by former Secretary of State (Asia-Pacific) David Kilgour and international human rights lawyer David Matas said "the source of 41,500 transplants [in China] for the six year period 2000 to 2005 is unexplained...The allegation of organ harvesting from Falun Gong practitioners provides an answer."
At the rally, Ms. Zhang Tianxiao, who lost three family members in the persecution, said her sister Yunhe has been missing since police abducted her in February 2002.
"She was held at Dashan Detention Centre of Qingdao for at least six months before she was transferred away. But police denied that they had ever had her. Seven years have passed and nobody has heard from her."
Ms. Zhang believes Yunhe is already dead, killed in the Chinese Communist Party's (CCP's) illicit organ trade.
Yunhe's husband, Zou Songtao, died at the Wangcun Labour Camp of Zibo City in November 2000 after two months there. He was 28 years old.
Mr. Zou had been detained several times earlier. In April 2000, he suffered a violent beating by police. "He later recalled that his head was swollen to twice as big and was bleeding like an open faucet."
Ms. Zhang's then three-year-old niece has been orphaned as a result.
Toronto practitioner Rocy Huang spoke of her experience. She was arrested four times, detained three times, and "tortured by policemen and other prisoners instructed by the policemen." She was also forced to make umbrellas. She started a hunger strike to protest. The policemen shackled her for 24 hours, which made her arms and hands swollen. They often shackled her to the wall with her arms sticking up for several hours.
Li Xun, president of the Falun Dafa Association of Canada, said at the news conference "Minister Cannon, we are here today to ask you not to ignore the atrocities happening under the communist regime in China."
You are welcome to print and circulate all articles published on Clearharmony and their content, but please quote the source.