The classical Chinese dance and music company Shen Yun Performing Arts wowed the audience at the Théâtre de Beaulieu in Lausanne, Switzerland on March 18.
Following their initial European performance in Amsterdam, Shen Yun has performed in Bruges and Frankfurt. The New York-based company brought a new flame to the Swiss city known for hosting the headquarters of the International Olympic Committee.
Shen Yun was greeted warmly and left a lasting impression on the spectators who marvelled at its beauty. Philippe Van Holle, president of a pharmaceutical company, said, "I am surprised and taken back by the colours, particularly the interactive backdrops--3-D effects."
Pierre Henchoz, a banker, appreciated the show enormously and said he wishes Shen Yun would also stage a show in Bâle, another major city in Switzerland.
Also at the show was Gabriela Vuichoud. She said that she did not expect to see "a show with such beauty, such warmth, all the colours which accompanied the set, and the artists who were magnificent."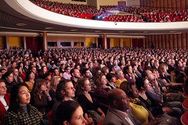 The audience at the Theatre de Beaulieu in Lausanne on March 18.
'They conveyed a message coming from very high above and very far away'
Jocelyne Cassat, accompanied by Myriam Casset and Christian Dessibourg, attended the show. Through music and Chinese dance, "we are moved to a higher level, in our soul" explained Ms. Casset, a professional in personal development.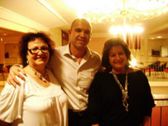 Jocelyne Cassat (R) accompanied by Myriam Casset and Christian Dessibourg
Ms. Casset found the performance breathtaking, "That was so surprising, the dancers' moves were so fluid and gracious, as if they were making no effort. It is the very first time I've seen something like this. What it infused me with--is a feeling of peace and serenity. How precious are traditions! We keep on looking for new things when so many good things can be found in the past."
Mrs. Jocelyne Cassat tried to explain her feelings and the profound effect experiencing Shen Yun had on her. She said, "It is hard to speak. I think that calling this a 'show' is not entirely appropriate as what we have received is a phenomenal message, a philosophy of life. There was a lot of happiness on stage, and they conveyed a message coming from very high above and very far away. That is how I felt, and I felt I got richer during this couple of hours."
Christian Dessibourg, a telecommunication engineer, said, "I loved the Chinese philosophy that was expressed through the grace of dancers, colors and music. That was really beautiful."
Mr. Dessibourg was especially touched by "the reality of some currently happening events" of repression in today's China. "People have the right to live, to protect their belief or their sacred duty. This has been shown on stage, we all felt it and were supportive to it."
To Mrs. Cassat, who could not hold back her tears while speaking to our correspondent, "this made me dream, but it was no dream ... it was no dream, it was a reality that we have in our hearts, that we have to protect."
As Myriam Casset concludes, "You can enter the theater with a lot of life's burdens filling your head, and they all vanish during the show."
Shen Yun will tour Europe until the end of April, visiting Stockholm, Oslo, Vienna, Paris, Dublin, Dresde and Aarhus. The next stop is Lyon, in France, where there will be two shows in Cité Internationale, on March 20-21.
Sources:
http://www.theepochtimes.com/n2/content/view/31690/
http://www.theepochtimes.com/n2/content/view/31710/
You are welcome to print and circulate all articles published on Clearharmony and their content, but please quote the source.