The Shen Yun Performing Arts concluded three shows at the Teatr Wielki / Great Theatre in Lodz, Poland on June 14-16, 2010, bringing several standing ovations and curtain calls.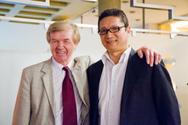 Polish tenor Andrzej Jurkiewicz (L) and Shen Yun tenor Yuan Qu pose for a photo after singing together at an impromptu session at the post-show VIP reception.
Among the many distinguished guests in the audience was opera singer Andrzej Jurkiewicz, who was accompanied by his wife. The couple also attended the Shen Yun performance last year.
Mr. Jurkiewicz described the songs sung by Shen Yun soloists as "beautiful."
"The sopranos were very gentle and the tenor was very sonorous. During the performance I was near the soloist. I felt like I could have been on the stage. I revelled in the music, colours, and richness of the costumes, the scenery, and the geography of China. This performance was very precious and broadened our horizons. It is great that the company visits us. I am very glad that Shen Yun will come next year as well," he said.
In addition to the singers, Mr. Jurkiewicz also enjoyed the overall show. "I'm fascinated, just like the last year," he said. "I'm happy the show came this year."
"It widened my horizons. I feel Poland has shifted all the way to ancient China--the richness of the dresses, beautiful girls, amazing traditional instruments--anything traditional is beautiful. It enriches us... the back screen, choreography, and music.
He continued, "I'm sensitive to the tone of the sound. Yesterday I was practising my voice in the theater and I heard this music and thought, 'I have to be here today!'"
Mr. Jurkiewicz and his wife became very emotional when viewing the two dance sets portraying the ongoing persecution of Falun Gong practitioners in contemporary China. "I have to add here that not only my wife became emotional, but me too," he said.
Mrs. Jurkiewicz shared her thoughts, saying, "It's very difficult and heart felt, and we as Polish people feel what Chinese people may be feeling. The prohibition of believing in higher values is lamentable. A man should have his heart and soul open, and you can't deny him something that's beyond this world. People should believe in compassion and goodness and that's how they should be to each other. It's terrible that in China the values are destroyed and prohibited. I watched these two pieces with a heavy heart. We understand, we empathize, and we very, very much support the pursuit of freedom."
Mr. Jurkiewicz concluded, "I'm happy, just like last year ... and this year. I hope they come next year and I will be there for sure."
Vocalist Impressed by Shen Yun's Tenor and Musical Arrangements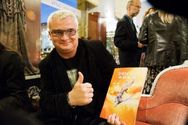 Pawel Zawierka of Full Steam at the post-show reception at the Great Theatre in Lodz, on June 14, 2010.
Also in attendance was Pawel Zawierka, a local celebrity and lead vocalist in the Lodz musical group "Full Steam."
"My impressions of the show are very, very positive," he said. "Above all, the use of colours in the costumes cast a spell on me, moving me, along with the very interesting musical arrangements."
Mr. Zawierka was also mesmerised by the erhu, the Chinese two-stringed violin played by virtuoso Mei Xuan.
"I am curious how [the erhu] works considering it uses only two strings. I will not fail to find out about how it works. Perhaps sometime we'll be able to use this instrument in pop-rock music, the sort that I create," he said.
Mr. Zawierka commented on the orchestra's combination of Western and Eastern musical, saying, "I really liked it. Indeed, I really liked the music, the diversity. I'll be direct--there are some distinctly Chinese sounds, and the whole thing impressed me immensely."
As much as he liked every aspect of the show, the vocal performances, especially caught Mr. Zawierka's attention.
"The operatic voices ... the vocal performances were great, very strong," he enthused. Referring to the Shen Yun tenor Yuan Qu, who performed the piece "A Single Thought," he explained, "I think I most appreciated the tenor, as it was a male voice, and a super tenor at that."
In conclusion he said, "I am extremely pleased with this show, and that I came to see it."
Source:
http://www.theepochtimes.com/n2/content/view/37512/
http://www.theepochtimes.com/n2/content/view/37433/
You are welcome to print and circulate all articles published on Clearharmony and their content, but please quote the source.