On Saturday 15th July, UK Falun Gong practitioners held a press conference and parade in central London to let people know that Falun Gong has been persecuted by the Chinese Communist Party (CCP) for seven years. Practitioners from several European countries also came to join the event.
Protesting against the persecution opposite the Chinese Embassy
On July 20th 1999, the Chinese Communist Party officially began persecuting Falun Gong practitioners. Thousands of practitioners were arrested and detained simply because they practise this peaceful exercise and cultivation system to improve their health and moral standards. They cultivate their bodies by practising the five sets of Falun Gong exercises and cultivate their minds by reading the Falun Gong books and learning how to improve their moral standards by following the principles of truthfulness, compassion and tolerance.
This did not fit in with the CCP's forced atheist doctrines. The CCP leader in 1999 was Jiang Zemin and he launched the persecution against Falun Gong, swearing that he would "eliminate" the practice within three months. Seven years later, the practice is still being persecuted and almost 3,000 practitioners are documented as being killed whilst the undocumented figure is thought to be many times higher.
The press conference was held opposite the Chinese Embassy and several speakers talked through a megaphone about different aspects of the human rights abuses against Falun Gong. European Falun Dafa Association Chairman Peter Jauhal explained how the CCP have persecuted Falun Gong practitioners for seven years and talked about the regime's "savage, inhuman, debased and completely evil" behaviour.
Mr Jauhal went on to talk about recent revelations tat the CCP has been harvesting organs from living Falun Gong practitioners and selling them to people who need a transplant; the practitioners' bodies are then incinerated. He quoted a report released last week by former Canadian Secreatary of State David Kilgour and Canadian human rights lawyer David Matas: "The allegations here are so shocking that they are almost impossible to believe, [They] represent a grotesques form of evil which, despite all the depravations humanity has seen, would be new to this planet. The very horror makes us reel back in disbelief. But that disbelief does not mean that the allegations are untrue."
Press conference speeches from Chairman of the European Falun Dafa Association Peter Jauhal and Vice Chairman of Friends of Falun Gong John Dee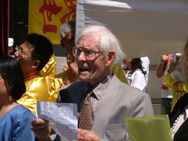 Lord Thurlow denounces the CCP's organ harvesting
Other speakers included Lord Thurlow and John Dee, Vice Chairman of European Friends of Falun Gong, who talked about the organ harvesting atrocities and the support that the organisation has received from dignitaries and VIPs, calling for an end to these crimes: "Along with many UK MEPs, we call upon the UN Human Rights Commission and the World Health Organisation to investigate the allegations against China fully by sending a group of experts to China to see for themselves what is going on."
Messages of support were sent from several MEPs who wished the activity success and expressed their concern at the CCP's human rights abuses.
After the press conference, the practitioners paraded through central London. The beautiful sunshine meant that the streets were crowded with throngs of people. The public's response to the parade was very positive with many people staring transfixed as the magnificent procession passed by. Some practitioners wore traditional yellow Chinese exercise suits and carried banners revealing that Falun Gong is practised in over 70 countries and other facts about the practice and the persecution. Others were dressed in white and carried placards with pictures of practitioners from China who have lost their lives in the persecution.
Parade through central London
Leaflets were handed out as the procession passed through many of London's famous streets, including Oxford Circus, Regent Street and Piccadilly Circus. People stared in disbelief at a banner bearing pictures of some of the torture methods used to force Falun Gong practitioners to renounce their beliefs.
Re-enacting torture methods and collecting petition signatures at St martin's Square
After the parade finished, several smaller activities took place across London including at Chinatown and St Martin's Square. Practitioners re-enacted some of the forms of torture used in Chinese forced labour camps and collected petition signatures from people who wanted to call for an end to the persecution. Whilst these other events were taking place, a petition was handed into the Prime Minister's residence at 10 Downing Street. In the evening, a candlelight protest took place opposite the Chinese Embassy.
| | |
| --- | --- |
| | |
| Handing petition signatures to the Prime Minister's residence | Candlelight protestat the Chinese Embassy |
You are welcome to print and circulate all articles published on Clearharmony and their content, but please quote the source.