"They take both of your kidneys, heart and skin, corneas and liver and then they throw your body in the incinerator.²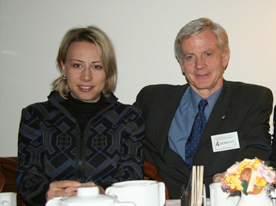 Jaques & Kilgour in the Czech Parliament
Those are words of David Kilgour, the independent investigator and former member of the Canadian government, who with his colleague David Matas compiled report on illegal organ seizures from prisoners of conscience in China, namely from the practitioners of Falun Gong meditation discipline.
On Thursday, November 16th, David Kilgour reported his findings in the Czech Parliament, where the seminar about large-scale forced organ harvesting from prisoners of conscience in China was held under the auspices of MP Mrs Catherine Jacques. At the seminar also spoke Mr. Jan Ruml the formal Vice-chair of the Czech Senate on behalf of a Czech NGO The Olympic Watch and strongly condemned organ harvesting.
"It is a new and so far unseen form of evil,³ said Mr Kilgour about the appalling practice of organ harvesting from living people which is taking place in detention centers, labour camps and even hospitals across China with the tacit consent of state administration.
"We probed in 18 different items of evidence,² said Mr Kilgour at the seminar. Since June he and Mr. Matas have collected further 10 items of evidence and are working to release an additional report by the end of year.
Part of the new evidence is testimony of Falun Gong female adherent who was forced in a labour camp to undergo repeated large-scale medical tests but finally her card was marked as ³unsuitable² by the doctors because of her poor health from prolonged physical torture.
³These medical tests were applied only to Falun Gong prisoners every three months and are extremely suspicious², says Kilgour. ³There is no reason for these tests, and it is unthinkable that the Chinese regime would care for these prisoners who are daily brutally tortured in the camps where no one cares whether they live or die.²
Kilgour & Matas report cites telephone conversations with Chinese doctors who readily admitted having a large source of ³living organs² from those who practise Falun Gong.
Among the attendees were also Mrs Veronika Stromsikova the Director of the Human Rights Department of the Ministry of Foreign Affairs of the Czech Republic and her colleague. Her department has been particularly active in lobbying the European Parliament and calling for investigation into the human rights abuses by the Chinese communist government. The leader of the Green Party Mr Martin Bursik engaged the speakers in discussion and together with the leading Czech sinologist Dr Vera Lamackova talked about points of concern. Several NGOs and human rights speakers also attended and Czech TV filmed the seminar and journalist from internet daily made recording for the web podcast.

One of points made was that Falun Gong was at first glorified by the communist regime in 1992 for its health benefits, but since 1999, when government¹s statistics showed it has several million more adherents than the Communist Party, it¹s adherents have, according to the resolution of the European Parliament been brutally persecuted.
Press Conference at the Czech Parliament followed and Mr David Kilgour was joined by the spokeswoman of Amnesty International in Czech Republic, Miss Eva Dobrovolna who called for further investigation into organ harvesting in China.
The Czech media attended with the Czech TV filming the Press Conference and three Czech radio journalists recording and asking questions. International media NTDTV and The Epoch Times newspaper also came.
That evening Mr. Kilgour was invited by Czech TV to speak about his report on the main news analysis program Czech24. Mr Kilgour said that under such conditions of severe human rights abuses amounting to genocide against Falun Gong practitioners in China, holding the next Olympic Games in Beijing would be unthinkable. He appealed to all Czech people to ask their Government to help stop these atrocities as quickly as possible.
You are welcome to print and circulate all articles published on Clearharmony and their content, but please quote the source.