Shen Yun Performing Arts Touring Company performed its first of two shows at the Lyon Grand Amphitheatre in Lyon, France on March 20, 2010.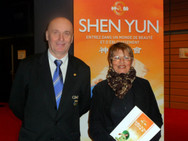 Jean-Claude Jouanno attended Shen Yun Performing Arts' first show, in Lyon Grand Amphitheatre on March 20, accompanied by his wife Annie Jouanno.
Jean-Claude Jouanno, president of the Rhone departmental Olympic Committee, attended the show with his wife, Annie Jouanno, a former classical dancer.
Mr. Jouanno said that he was interested in coming to the show because, "I am close to the Asian community living in Rhone."
He said that he felt the show "carries important values," and that "these values make all humankind able to feel close to the philosophy coming from China's history. This show also allows us to think and to realize that each one of us belongs to the same overall body and we have to show solidarity to other humans.
"This is the kind of message we get through tonight's show, with these artists that not only have a very strong technical level, but also show a willingness to share ideas that humankind, as a whole, has to think of. The message of this show ... a message of solidarity, peace, help, understanding, sharing ... are the great principles of a humankind that must be strong."
Mrs. Annie Jouanno, a former classical dancer and member of the Lyon Opera, was thoroughly impressed by the show, saying, "The dance I have seen tonight was wonderful. The technical level is very high and there were incredibly high leaps. I did appreciate the great quality of hands movements, and loved the dance of necklaces, the dance with plates, all these dances that had a lot of rhythm."
Prominent Theatre Manager: Shen Yun Is a "Beautiful Show"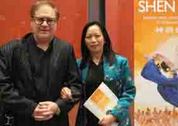 Mr. and Mrs. Burle after the Shen Yun show in Lyon.
Mr. Jean-Paul Burle, a well-known French theatre manager, President of the National Union of Public Theatres, and member of the prestigious Moliere Academy, shared his professional opinion of the show, saying, it is "a beautiful show, well-ordered, with beautiful lights."
He continued, "The digital backdrops were well-chosen, so that makes it a grand and nice show ... the transitions are smooth, there is a lot of diversity from one scene to the other, and I think the dominating impression is that of the overall picture given by the artists."
His wife, Mrs. Burle, an ethnic Chinese, thought "the show is wonderful."
"Really, I feel so fortunate. I think that for a Chinese person coming to attend such a show, it is very special. Before each scene, I kept telling my husband that I could 200 percent guarantee that the next one would be top-notch ... This does well to represent our traditional Chinese culture. This is therefore really a wonderful thing," she said.
Sources:
http://www.theepochtimes.com/n2/content/view/31766/
http://www.theepochtimes.com/n2/content/view/31742/
You are welcome to print and circulate all articles published on Clearharmony and their content, but please quote the source.