Shen Yun Performing Arts Touring Company debuted in Bregenz, Austria, at the Bregenzer Festspielhaus, on March 23, 2010.
The delighted audience showed their appreciation for the world-renowned traditional Chinese culture show by honouring the artists with frequent resounding applause throughout the performances, including four standing ovations and curtain calls.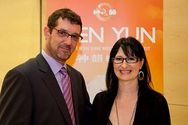 Andreas Seeburger, head of the Austrian media firm Radio Television Management, and Ms. Nikola Fritsche
Andreas Seeburger, head of the Austrian media firm Radio Television Management, and Ms. Nikola Fritsche, a nurse, were among the highly-enthusiastic audience attending the Shen Yun Performing Arts show at the Bregenzer Festspielhaus.
Mr. Seeburger and Ms. Fritsche had come from Bludenz, located about 60 kilometers from Bregenz.
"Wow, I can't find the perfect word for what I have just seen and heard!" said an amazed Mr. Seeburger.
"I must say that it was very impressive. The colours, the choreography were something seldom seen. Given my position, I'm invited frequently to cultural shows. But something like that ..."
He said, "Overall, I have to say, a colourful cultural shock presented in a manner I have never seen before. Wonderfully presented, great choreography and wonderful music and classic dance culture."
Ms. Fritsche agreed. "It was fascinating ... the costumes, just about everything--the entire performance."
Mr. Seeburger expressed his appreciation after seeing traditional Chinese culture presented through dance, song and music. "We have never been presented Chinese culture in such a manner. We have never seen it presented like that," he said.
Mr. Seeburger said he found the music so wonderful that he wished to just close his eyes to enjoy it, "But, I couldn't deny myself closing my eyes and letting the soothing music affect me."
Both will come and see the show again when it comes back to the area. They concluded with a message. "We hope that many people will come and see this show."
Expresses Admiration for Shen Yun
Ludmila Sergienko had crossed Lake Constance by boat on this sunny and warm day just to see the show. Ms. Sergienko had grown up in St. Petersburg, Russia, where she had directed a children's ballet group. She came to the show from the German state Baden-Baden, quite a distance from Bregenz.
"Excellent!" she exclaimed. "I find it important that they presented classical Chinese dance tonight and think that is very positive," she continued. "And the choreography was also excellent."

Cultural expert Ludmila Sergienko was delighted she had come to see the show
The Shen Yun Touring Company Orchestra, which includes musicians who play a mix of Eastern and Western instruments, fusing Eastern and Western tonal scales, was very much enjoyed by the audience, and by Ms. Sergienko in particular.
"It touched me that they presented their own music, their own culture and philosophy. The costumes were fabulous, very well styled. Everything matched perfectly ...The orchestra was excellent."
One piece, "Mongolian Hospitality" was moving for Ms. Sergienko. "That particular dance touched my heart deeply, and how it fused with all the stage surroundings, the music, the plates, with just about everything ... All dances were one of a kind. And the way they presented it-marvellous!"
She was touched by the scenes that depicted stories from modern day China - the persecution of Falun Gong, and saw deeper implications in the ongoing persecution.
"I was impressed that the group portrayed the situation in China because they are certainly what is behind the destruction of their culture. What is so impressive is that they did it delicately and yet in a way that showed that their soul is deeply hurt by the ongoing persecution in China. ... I understood that they also suffer from having their culture destroyed."
What was a surprise to her, "...the company is from New York. It surprises me that they show their feelings in their performance."
She said the show resonated in her heart and she concluded by saying, "I will definitely recommend the show to everyone I know."
Source:
http://www.theepochtimes.com/n2/content/view/32046/
http://www.theepochtimes.com/n2/content/view/32014/
You are welcome to print and circulate all articles published on Clearharmony and their content, but please quote the source.