The Mayor of South Dublin, District Councillor Mick Duff was amazed with what he saw the evening of March 28 at Dublin's Grand Canal Theatre. "I have never had the privilege of seeing Chinese traditional music and dance as we have seen tonight. It was beyond words, really incredible."
Mr Duff enjoyed the great spirit among members of the audience and the stories portrayed in the different acts, "The message throughout, that evil will not prevail, was absolutely crystal clear. Everybody enjoyed it, it really was wonderful."
The local politician enjoyed every aspect of the show from the musical arrangements to the dance. "It was a great honour to see that, I believe that even in mainland China you don't get a chance to see that. I was delighted, really thrilled and felt honoured to be here tonight for this performance."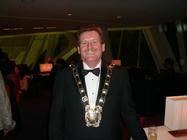 Mayor of South Dublin, District Councillor Mick Duff.
Mr Duff was hopeful that Shen Yun will return to Ireland next year as he would like to see them again.
Regarding the scene in Nothing Can Block the Divine Path that portrayed the persecution of a young Falun Dafa family, he said, "I felt that was an emotional tale of a family in modern China that was oppressed over their religion. That was very sad, and you actually felt that sadness.
"There was a young lady sitting beside me and she almost cried during one part there, you really felt that they were being oppressed, but they will rise above [the evil]. That was really excellent, it really and truly was."
The Mongolian Hospitality dance was one of the main highlights for Mr Duff, "It was absolutely wonderful, terrific. I think overall, the young ladies and gentlemen who danced were really superb."
In closing Mr Duff said "I would recommend this show universally. I think it should be seen all over the world, it was wonderful, it really was."
Sources:
http://theepochtimes.com/n2/content/view/32522/
You are welcome to print and circulate all articles published on Clearharmony and their content, but please quote the source.