In its Irish début, Shen Yun graced the stage at the Dublin Grand Canal Theatre on March 28, 2010. The theatre only opened 10 days before. The cultural aspects spoke strongly to the audience. They understood Shen Yun's aim to revive ancient Chinese culture from the desperate situation it has been in under China's Communist Party rule, especially during the Cultural Revolution.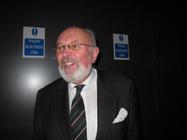 Senator David Norris, member of the Upper House of Irish Parliament.
Senator David Norris, member of the Upper House of Irish Parliament, was in attendance. Mr. Norris said, "If any regime is threatened by truth, compassion and tolerance, I think that raises certain questions, because a regime that is really in the interest of all the people couldn't be threatened by those things. They are all positive, all virtues." Mr. Norris said he found a positive message in the show, in particular, "about spiritual values and against the sort of complete materialism that affects not just communist China and atheist regimes like that, but fully materialistic regimes like we have here in Europe. All we think about is money, the market, all this kind of stuff, and now the bottom has fallen out of the market, so maybe we will find a few spiritual values again."
Billy Timmons TD, who was elected to the Dáil in 1997, and his wife, Madeline, also attended the performance. China's foundations are rooted in a divine culture portrayed by Shen Yun through ancient legends and modern day stories in music and dance. Mrs. Timmons appreciated the lessons that the stories told. "I thought it was lovely to use the legends and the stories of the deities brought to life." she said. "I like the spiritual side ... it's a very good message, I like the whole idea of the legends coming through, and whether you believe or not doesn't matter, it's just good to hear it." The Timmons have five children, and Mrs. Timmons said she would have liked for her children to have seen the performance. "It would be good to bring children to this, because the next generation [who will] be able to change the world is the children."
Patricia McKenna, a former Green Party Member of the European Parliament for Dublin, was there to experience the New York-based Shen Yun. She said traditional Chinese culture was "something that should be kept alive, and something that we could all learn from." She said that Shen Yun should be performed in China to keep Chinese traditional culture alive, and also for the Western world. "It's very important, because you can see the link between the Chinese culture and Western culture. And I think for that reason it's very important. People's identity is very much part and parcel of their culture. Culture is part of your identity, and you should not allow your culture to die out. And I think what this performance shows tonight is that we have so much to learn from Chinese culture – it has so much to give to other areas of performance, art in particular." She said Shen Yun should be thanked because it "opened up a new avenue for people in the West, too. It's very, very important, and I think for the Chinese people as well. They should be allowed to see these performances."
Source:
http://theepochtimes.com/n2/content/view/32397/
http://theepochtimes.com/n2/content/view/32354/
http://theepochtimes.com/n2/content/view/32366/
You are welcome to print and circulate all articles published on Clearharmony and their content, but please quote the source.