Mr. Bai Shaohua is a Falun Gong practitioner from Beijing. On the afternoon of February 20th, 2008, the police arrested him on the pretext of an Olympic Game "security check". He was detained at the Huairou District Detention Centre in Beijing. From March 20th to April 1st, they confined him separately from others in a small cell at the Beijing Forced Labour Bureau. The Beijing authorities secretly transferred him to Baimiao Forced Labour Camp in Zhengzhou City, Henan Province, where he was confined for 14 months. Someone in the know claimed that two months was added due to his missing time from the last detention when they had to release him for hospital treatment. Mr. Bai is very weak from torture, and two people need to hold his arms in order for him to walk.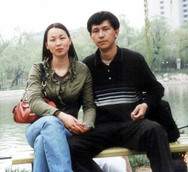 Bai Shaohua and his wife Ji Lei
His family's lawyer has asked to see him, but the labour camp authorities have repeatedly refused his requests, and the staff there have been very rude and harsh. The lawyer handed in a complaint to the local judicial department on Baimiao Forced Labour Camp's violation of regulations. The Judicial Bureau of Zhengzhou investigated the issue and acknowledged the labour camp staff 's bad attitude and asked the labour camp authorities to apologize to the lawyer and the family. However, the Judicial Bureau still refused to allow the lawyer to see Mr. Bai. They claimed that their superiors had given an order that during the Beijing Olympic Games, visits to Falun Gong practitioners in labour camps were not allowed, nor were practitioners allowed to be released for hospital treatment, among other things.
In early May, Bai Shaohua's mother overcame many difficulties to locate Baimiao Forced Labour Camp. She begged to see her son. The labour camp authorities let her see him for only 15 minutes. They were only allowed to talk about family matters. Mr. Bai is extremely weak. He can only drink milk or other liquids. The request for hospital treatment was denied. In his current physical condition, continuing the detention is a death sentence. The attorney and his family couldn't tolerate it any more. They are seeking legal channels to sue the entities and personnel that violate the law when they enforce the law.
Mr. Bai Shaohua and Yang Hui were driving to the Huairou District in Beijing on February 20th, 2008, when they were stopped and arrested on the pretext of Olympic Games "security." They were taken to the Huairou District Detention Centre, Beijing. Because the car was borrowed from a friend, Yang Hui, who was driving at that time, called the car's owner, Qi Wei. Mr. Qi told him that all the legal documents and certificates related to the car were in the car. Around 9:30 p.m. on the 22nd, when Qi Wei and his wife went for a walk around the outside of his home, several plain-clothes policemen arrested him and took him to the Anzhen Police Station, Chaoyang District. After that, six to seven policemen broke into his home and ransacked it.
The police attempted to get a false confession by torturing Bai Shaohua. From February 20th to 25th, 2008, they hung him on an "iron chain" and beat him for five days. Then they ordered a prison tyrant to beat him violently. Mr. Bai was tortured almost to death. The police were afraid of being held responsible for his death in the detention centre, so they took him to the Qinghe Emergency Centre in Beijing.
In recent years, Bai Shaohua's family has suffered gravely. The death and separation, sorrow and hardship are hard to describe. His older brother, Bai Xiaojun, a philosophy instructor at Northeast Normal University, would not give up his belief in "Truthfulness-Compassion-Forbearance," so he was repeatedly confined in Chaoyanggou Forced Labour Camp in Changchun City, where he was severely tortured. In 2003, he unfortunately passed away. Their over-70-year-old mother has also been imprisoned many times because she didn't give up her faith. The authorities have imprisoned Mr. Bao many times. He was shocked with electric baton and his legs were broken from beatings. In 2005, at the Qinghe Detention Centre in Haidian District in Beijing he almost lost his life due to the brutal treatment. Ms. Ji Lei, Bai Shaohua's wife, was also detained in a forced labour camp. Guards tortured her brutally and gave her additional detention. They tried to force her to divorce her husband. A policeman once took away Bai Shaohua's daughter when she was only four years old.
Bai Shaohua's elderly mother worries about her son's physical health. Her heart is burning with impatience! Her older son, Bai Xiaojun, was tortured to death during detention in the forced labour camp. When she hurried to the forced labour camp, her son had already stopped breathing. She cried day and night and almost lost sight in one of her eyes. Right now, Bai Shaohua is very weak, and the authorities still refuse to let his lawyer see him. It seems the pain of losing a son is about to be repeated. Their mother does not have a place to go to appeal for justice. She can only ask everyone for help and strongly request her son's release for hospital treatment. Members of the international community, please pay attention to this!
Parties responsible:
Zhang, director of the Baimiao Forced Labour Camp, Zhengzhou
Sun Haojie, deputy director
Beijing Police Department (Forced Labour Approval Committee)
9 Qianmen East St., Dongcheng District, Beijing Phone: 86-10-85223418
Legal person: Ma Zhenchuan ( Beijing Police Department chief)
Chinese version available at http://minghui.ca/mh/articles/2008/6/27/180985.html
You are welcome to print and circulate all articles published on Clearharmony and their content, but please quote the source.